VALCHLOR® (mechlorethamine) gel is an alkylating drug indicated for the topical treatment of Stage IA and IB mycosis fungoides–type cutaneous T-cell lymphoma (MF-CTCL) in patients who have received prior skin-directed therapy
VALCHLOR Support™ for you and your patients
Comprehensive support and resources are available throughout the
VALCHLOR treatment journey
For physicians and office staff:

Patient support materials
(eg, disease education and product information)
Assistance with insurance verification, prior authorization, and appeals
For patients and caregivers:

Help with understanding what to expect with VALCHLOR gel
Ongoing educational resources about living with MF‑CTCL
Financial assistance for eligible patients
Prescription management assistance and advice
Self-administered therapy, delivered directly to wherever patients are located.
(Direct shipping is available from a specialty pharmacy for patient convenience.)
Available resources for you and your patients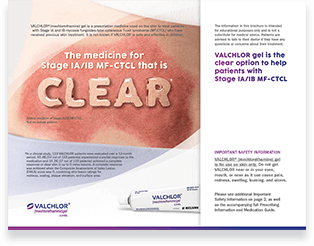 VALCHLOR Patient Brochure
Covers helpful topics such as how to apply and store VALCHLOR and how to address common side effects. To provide to your patients in your office:
VALCHLOR copay program*
Helps eligible patients pay no more than $10 per prescription fill.
*The VALCHLOR copay program is only available for US and Puerto Rico residents who are 18 or older and have commercial health insurance with copay/coinsurance exceeding $10 per prescription fill. Patients ineligible for the VALCHLOR copay program include those enrolled in Medicare, Medicaid, VA/DoD (Tricare), the Indian Health Service, or any other federal- or state-funded healthcare program, or where prohibited by law. The VALCHLOR copay program is not prescription drug coverage or insurance. Helsinn Therapeutics, Inc. reserves the right to terminate or modify this program at any time or without notice. Other terms and conditions apply.
For more information, call 1-855-4-VALCHLOR (1-855-482-5245)
Reference:
VALCHLOR [package insert]. Iselin, NJ: Helsinn Therapeutics US, Inc.; November 2018.
Lessin SR, Duvic M, Guitart J, et al. Topical chemotherapy in cutaneous T-cell lymphoma: positive results of a randomized, controlled, multicenter trial
testing the efficacy and safety of a novel mechlorethamine, 0.02%, gel in mycosis fungoides. Arch Dermatol. 2012;E1-E8.
Request a Rep
*All fields marked with an (*) are required and must be filled out to complete this form.
Important Safety Information
Contraindications
VALCHLOR is contraindicated in patients with known severe hypersensitivity to mechlorethamine. Hypersensitivity reactions, including anaphylaxis, have occurred with topical formulations of mechlorethamine.
Warnings And Precautions
Mucosal or eye injury: Exposure of mucous membranes to mechlorethamine such as the oral mucosa or nasal mucosa causes pain, redness, and ulceration, which may be severe. Exposure of the eyes causes pain, burns, inflammation, photophobia, and blurred vision. Blindness and severe irreversible anterior eye injury may occur. Should eye exposure or mucosal contact occur, immediately irrigate for at least 15 minutes with copious amounts of water, followed by immediate medical consultation
Secondary exposure: Avoid direct skin contact with VALCHLOR in individuals other than the patients due to risk of dermatitis, mucosal injury, and secondary cancers
Dermatitis: Dermatitis may be moderately severe or severe. Monitor patients for redness, swelling, inflammation, itchiness, blisters, ulceration, and secondary skin infections. Stop treatment with VALCHLOR or reduce dose frequency
Non-melanoma skin cancer: Monitor patients during and after treatment with VALCHLOR
Embryo-fetal toxicity: Women should avoid becoming pregnant while using VALCHLOR due to the potential hazard to the fetus. For nursing mothers, discontinue use of VALCHLOR or nursing
Flammable gel: VALCHLOR is an alcohol-based gel. Avoid fire, flame, and smoking until the gel has dried
Adverse Reactions
The most common adverse reactions (≥5%) were dermatitis (56%), pruritus (20%), bacterial skin infection (11%), skin ulceration or blistering (6%), and hyperpigmentation (5%). These reactions may be moderately severe or severe. Elderly patients aged 65 and older may be more susceptible. Depending on severity, treatment reduction, suspension, or discontinuation may be required.
Dosing and Application
VALCHLOR is for topical dermatologic use only. Apply a thin film of gel once daily to affected areas of the skin. VALCHLOR is a cytotoxic drug and special handling and disposal procedures should be followed during use. Caregivers must wear disposable nitrile gloves when applying VALCHLOR. Patients and caregivers must wash hands thoroughly after handling or applying VALCHLOR.
To report SUSPECTED ADVERSE REACTIONS, contact Helsinn Therapeutics (U.S.), Inc., at 1-855-4-VALCHLOR (1-855-482-5245) or FDA at 1-800-FDA-1088 or visit www.fda.gov/medwatch.
Please see VALCHLOR full Prescribing Information and Medication Guide.